The Allison Williams Legacy Society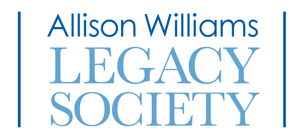 An Invitation to Join The Allison Williams Legacy Society
Members of The Allison Williams Legacy Society have invested in the future of Trinity through a very special and important form of financial support.
These donors have named Trinity as the beneficiary of a planned gift. The Allison Williams Legacy Society recognizes the generosity of alumni, parents, grandparents, and friends who provide for Trinity through their wills, life insurance or retirement account designations, or other deferred gifts.
If you have already included Trinity in your will or another planned gift, we hope you will let us know. Your willingness to be listed as a member of The Allison Williams Legacy Society encourages others to follow your example. We acknowledge and respect those who wish to remain anonymous, but we urge you to let us know of your plans on a confidential basis. If you have not yet included Trinity in your plans and you would like to explore the best options for you and your family, do not hesitate to contact us. We would be glad to provide a confidential forum to discuss your options without any obligation.
For more, contact us or you can fill out our member profile form.